Good lash extensions should last a client up to six weeks. While lash extensions are convenient for all the prep time they save in those six weeks, they can be a little hard to clean. If a client doesn't clean their extensions properly and regularly, the extensions will most likely lose their adhesive and fall into the bathroom sink long before they're due.
Whether they needed a cleaning for maintenance or makeup has been applied atop the extensions (although this is strongly discouraged), the best way to keep those extensions where they belong is with our lash cleanser!
Cleaning Lash Extensions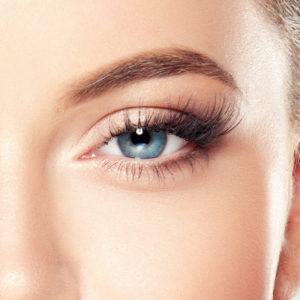 Lash extensions are most often made from synthetic fibres, and they come in many different sizes depending on your desired look – they could be anywhere from 6 mm to 18 mm in length. They are attached to your natural lashes using an adhesive, with one extension placed on every natural eyelash. This is what gives the dramatic increase in lash length, and when properly placed, lash extensions will give the eyelashes much more volume and make your client's eyes look wider.
Eyelash extensions can make any regular eye makeup unnecessary, especially mascara. But for those who absolutely must put on eye makeup, it's necessary that they avoid waterproof mascaras, and that they take off everything that has been applied before going to bed. Letting eye makeup build up around the extensions can seriously weaken them, which will undoubtedly cause them to fall out. It can also cause eyelid inflammation and infections!
Your clients just need the right lash cleanser, and this means finding a special formula for the extensions, avoiding certain ingredients in the makeup remover you offer, and giving them the proper tools for usage.
What Kind Of Lash Cleanser Is Best For My Extensions?
It's important that any eye makeup cleanser used around the eyelash extensions is completely natural. Certain chemicals-based ingredients can weaken the adhesive used for the extensions, causing them to break off prematurely. You can't just expect the cleansers on the shelf to be without any harmful ingredients, so read the label carefully, especially looking out for petroleum-based products.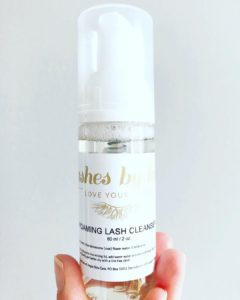 After finding and prescribing a high quality lash cleanser, clients will have to use it on a disposable mascara wand, brushing it through their extensions several times. This will soften and break down the mascara and remove any dust or debris. They should not use cotton pads, swabs, or any other cotton products on or around the extensions, even when removing other makeup. Cotton will snag the extensions and rip them off as the swab or pad is passed over the area. Instead, they should remove the product by dabbing the lashes with tissue, and keep brushing the remover through and dabbing it off until the mascara is gone.
Cleaning lash extensions doesn't have to be complicated. The Crushed Aftercare Foaming Lash Cleanser is made with simple ingredients like rose flower water and Castile soap, making it gentle, natural and vegan. It's a must for your clients to keep their lash extensions in great condition for longer!