The magic of the holiday season is upon us! It's the ideal time for clients to book a pampering session. With the perfect set of lashes, they'll feel every ounce of glam on their big night out. Help them keep that luxurious, VIP confidence lasting longer with Crushed Aftercare's Vegan Foaming Lash Cleanser, featuring your own personal branding.
It's true what they say – confidence comes from within, which means at Crushed Aftercare, we leave the harsh chemicals OUT. Toxins like sodium lauryl sulphate may dry out the skin around your eyes and can result in the life of your lash extensions being cut drastically. The secret to creating products that are soothing, natural and provide the best result for you and your clients is pure and simple. That's why our 100% vegan Foaming Lash Cleanser is infused with all-natural tee tree oils.
We use a gentle vegan formula at Crushed Aftercare, including plant-based paraben-free ingredients such as rose water, chamomile, white tea, and carrot oil.

The essence of the cleanser is our ethically sourced, high-quality tea tree oil.

A soothing addition to our already calming combination, the tea tree oil is what truly allows this cleanser to remove dirt and oils while simultaneously preventing any dryness or retention of the lashes. Unlike coconut oil and other slick oily products like it, tea tree oil is a smooth, natural oil.

Our tea tree oil is distilled straight from the plant, which removes much of the typical oily consistency. This is ideal for lash extensions as it allows for volume retention, while cleaning the lashes and ensuring the quality of the lashes is uncompromised. Unlike other natural oils, tea tree oil is unique in its plethora of anti-bacterial properties, which effectively reduces the chances of micro bugs in your clients' lashes.
Achieving LUXURY Lashes At Home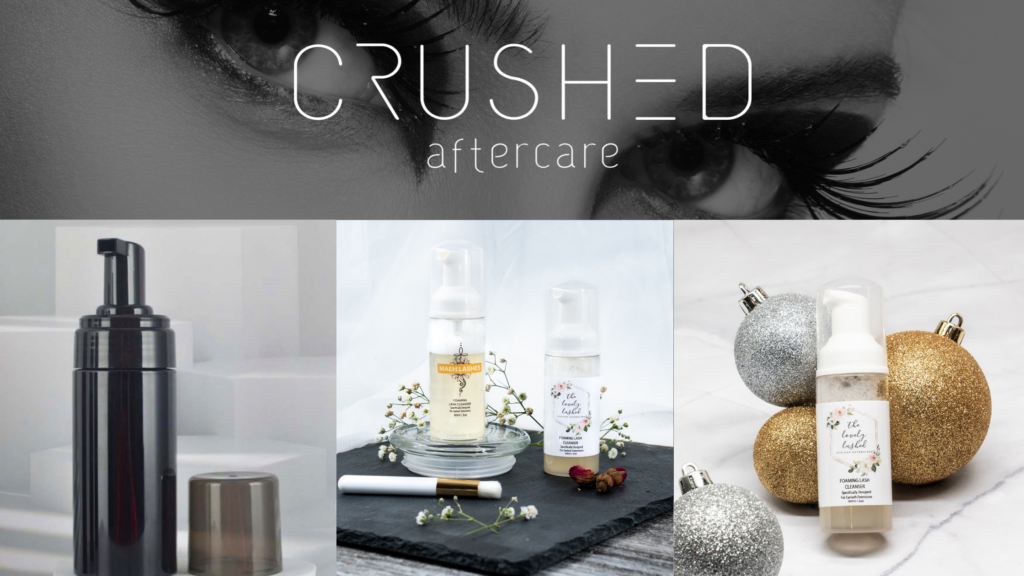 Caring for their lashes after their festive soiree is simple and straightforward.
The soothing benefits of the chamomile and rose combined with the antibacterial properties of the tea tree oil create a soft, calming experience for your clients as they take care of their beautiful new lashes.
Instruct your clients to use it by shaking the bottle well, then applying one pump of the cleanser into the mixing lid with some warm water. With a soft lash brush, have them apply the mixture gently to their lashes, and afterwards, rinse the brush with water and repeat.
When they're done, your clients can pat their new lashes dry with a clean, lint-free cloth. Enjoy fresh, and healthy lashes, with our Rose-water, infused Foaming Lash Cleanser.
Bring your business into a higher frequency and team up with Crushed Aftercare, by offering all-natural aftercare products with YOUR branding. Ethically sourced, all-natural product in a sleek, modern container with your brand, is the epitome of luxury that your clients will love. 
Keep an eye out for our brand new black ink foaming lash cleanser bottles coming soon.
Check out our white label preview tool now to see how your logo will look on our products!