The healing power of plants is amazing, and many natural products can help heal and strengthen skin. One of these products is shea butter extract, and consumers often see it used in more cosmetic products being promoted as "all-natural." 
Shea butter isn't only a gentle additive for beauty products, though – it's a full-on healer, and it's perfect for relieving many skin problems. 
What Is Shea Butter Extract?
Shea butter is a fat that comes from the seeds of the African shea tree. The source of the butter is two oily kernels within the tree's seed, and after the refining process removes the kernel, it is ground into a powder and boiled. This separates the butter, which rises to the top and solidifies.
In the areas where it is grown, shea butter is used as a common cooking fat. However, the recent attention to its moisturizing properties has made shea butter a regular addition to many cosmetic products. This extract also has plenty of topical skincare benefits, too!
What Ailments Can Shea Butter Extract Treat?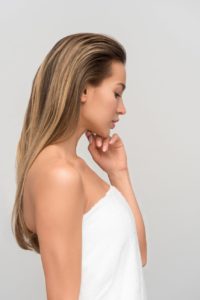 Shea butter's reputation is as an emollient; this means it softens and moisturizes dry skin. But it's more than that: shea butter extract also contains substances that can reduce inflammation. This can help treat the discomfort that is associated with skin swelling. 
This is why people use shea butter extract to treat acne, inflamed skin, dry skin, eczema, psoriasis, rashes, and other skin disorders. It can also relieve itches related to insect bites and muscle soreness, as well as heal wounds, skin breakages, stretch marks, and wrinkled skin. It's an all-natural healer, and it's why we use it in Crushed Aftercare balms and salves!
How Does Crushed Aftercare Use Shea Butter Extract?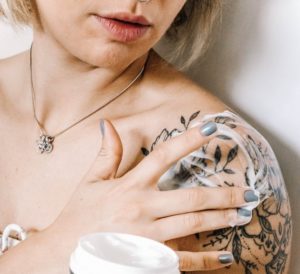 You'll notice that shea butter extract is a prominent ingredient in Crushed Aftercare products, listed as Butyrospermum parkii (shea butter) fruit on the jar. It's one of the best natural ingredients we can find for reducing swelling and healing wounds after a permanent makeup treatment (PMU) or tattoo. 
The anti-inflammatory properties of shea butter extract speed up healing following an appointment that causes superficial skin trauma. The wounds following a tattoo or microblading treatment can itch and swell, leading some people to rub, pick, and scratch the area. This can diminish the final results, cause infections, and lengthen the time needed for the skin to heal.
Shea butter relieves the itchiness and inflammation that are common in healing skin while moisturizing the area. Shea butter is all-natural too, so no unwanted toxins or synthetic ingredients will get into the body! We use it as a key ingredient alongside candelilla wax, coconut oil, arnica, and other known plant-based healers to give your clients a completely vegan aftercare product that works.