Vegan, cruelty-free beauty and aftercare products are all the rage, but it's important to note that not all these kinds of beauty products are created equally! So what should you look for in a vegan cleanser? It's important to be discerning about what goes into the products, especially if it's going on sensitive skin. The ingredients used should always be gentle, nourishing, and plant-based – the last of which isn't always as healthy as you might think!
Gentle Ingredients
No matter what a client's skin type, gentle ingredients are a must. The mixture shouldn't dry out the skin or strip the natural oils that your body makes to hydrate skin cells. Many vegan ingredients can be very harsh on the skin (more on that below!), but the right plant-based choices will protect the skin's pH and natural oils.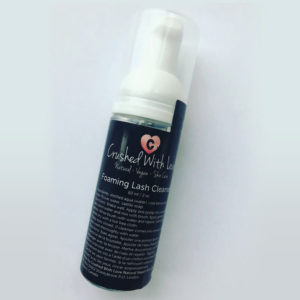 Ingredients like castile soap, rosewater, aloe leaf extract, and healthy oils like coconut and olive fruit oil all form the base of Crushed Aftercare's gentle cleansers. We chose these ingredients because of their cleansing properties and how they don't dry out the skin. The best part is that they also have other excellent effects: coconut oil and castile soap are both antibacterial, rosewater maintains the natural pH balance and controls excess oils, and aloe manages inflammation.
Nourishing Ingredients
It's not enough for a cleanser to remove dead skin cells, unwanted oils, and environmental pollutants that build up on the skin throughout the day. It should rejuvenate the skin and – in the case of permanent makeup treatments like microblading – help it heal, too. They must use plants with the antioxidants and phytonutrients that make them superfoods and anti-inflammatories. 
Crushed Aftercare's foaming Brow Cleanser and Lash Cleanser both include ingredients that will help heal and strengthen skin and hair following a PMU treatment. These include aloe barbadensis leaf extract, vitamin E, Calendula Officinalis (calendula) flowers, and Heterotheca inuloides (arnica) flower – all plant-based ingredients that are known to heal and cleanse.
Vegan Cleanser Plant-Based Ingredients
Don't be taken in by fancy certifications on the bottle – just because it's vegan and cruelty-free doesn't mean it's plant-based or good for the skin! Many "vegan" ingredients still aren't good for the skin, no matter how hard a company tries to pass them off as such. This is because they don't come from plants but rather chemicals that are technically "vegan."
Ingredients to look out for include parabens like butylparaben, ethylparaben, methylparaben, and propylparaben; sodium lauryl sulphate; and petrochemicals like propylene glycol, paraffin, petrolatum, mineral oil, and butylene glycol. These all have can dry the skin and lashes, causing treatments like lash lifts, extensions, and microblading to lose their effects long before the client expects.
There's no need for chemical byproducts when the right plant-based ingredient does the trick! Read the ingredients to make sure the formula of the facial cleanser doesn't use any of these harsh chemicals and toxins. The Crushed Aftercare Foaming Lash Cleanser, for example, uses rose water, chamomile, carrot and white tea extract to help nourish and cleanse natural and lash extensions. These ingredients get rid of oils and build-up without breaking down the adhesive and drying out the extensions.